This post was originally published on this site
https://i-invdn-com.akamaized.net/content/pic74209f9a822a24579a76e023cbfc894f.png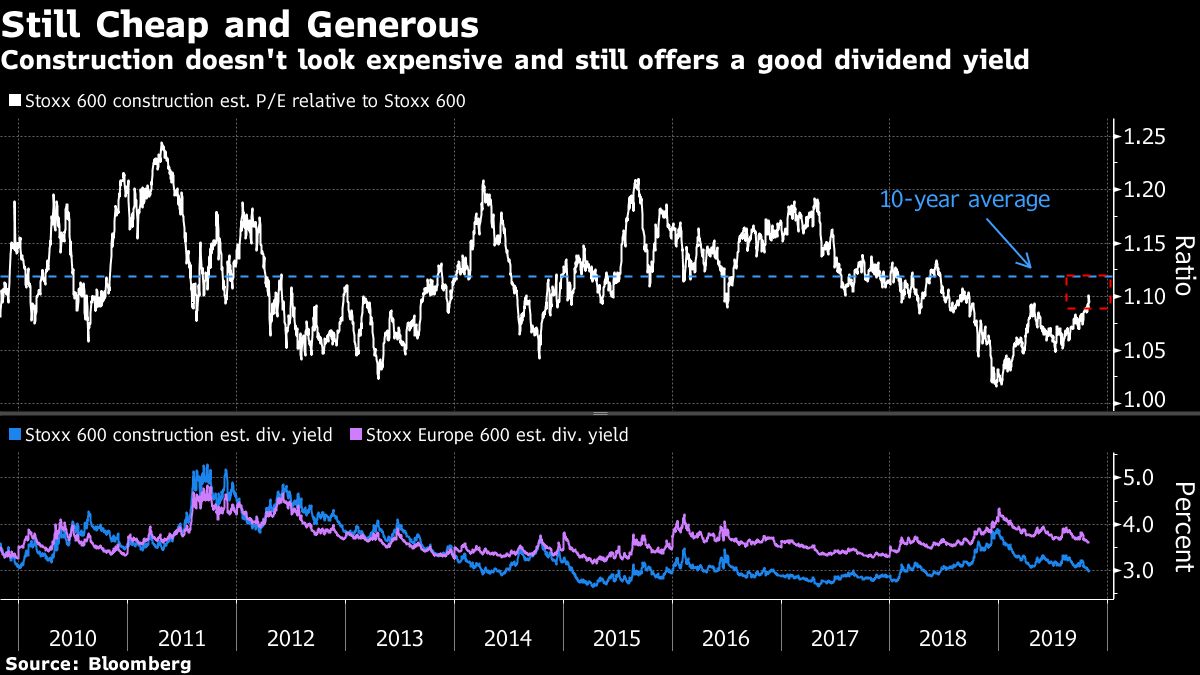 (Bloomberg) — If you had to guess which stocks are posting top gains given this year's gloomy economic outlook, you might be surprised by the answer.
Construction and material shares, despite most macro indicators pointing to slowing global growth, are now leading the pack in Europe. The sector's up 32% already this year, knocking food-and-drinks stocks off the pedestal, and there appear few signs of the rally stopping anytime soon.
If financial markets are about pricing future growth and risks, then the sector has held up well against recession fears, trade tensions and political woes like Brexit. That's because construction markets have been resilient in Europe and the U.S., as have good industry fundamentals, according to Citi analysts. They cite lower fuel cost and supply-side consolidation in particular.
Looking at the current relative valuation of members in the Construction & Materials Index, it's still some way away from its 10-year average, suggesting more room for gains.
While the sector offers an estimated dividend yield in the region of 3%, lower than the broader market, it's still more attractive than some other sectors for investors in search of stable returns in a low-yield environment.
"Companies have continued to deliver mid-single digit growth in revenue and Ebitda this year, while most cyclical sectors have seen significant earnings downgrade," Citi analyst Ephrem Ravi writes in a note, keeping a bullish view on construction materials. He expects companies to keep delivering positive earnings as U.S. and Europe construction markets remain in "good shape."
Indeed, the earnings season so far hasn't derailed the upward trend. Updates from large caps Vinci, LafargeHolcim, Assa Abloy, Sika, Geberit and Saint-Gobain have been reassuring about the demand in the sector. The low-rate environment also provides support, with some construction companies using relatively high leverage.
Looking at the table below, analysts are split on the upside left for the seven biggest components of the index. Saint Gobain (PA:), LafargeHolcim and CRH (LON:) remain the most favored stocks, they are also the cheapest ones in term of valuation. The seven stocks below account for about two-thirds of the index.
Not everyone is buying it. Bank of America (NYSE:) strategists downgraded construction materials to underweight yesterday, saying the sector is already priced for global PMI momentum to improve by more than they expect. They're also bearish on emerging market currencies, another strong driver for the sector, and see 8% relative downside by the end of the first quarter 2020.
Data remains encouraging. This year, the U.S. housing market has provided growth support, while in Europe, construction PMIs only dipped out of expansion territory once over the last three years — in August.
As for China, its current stimulus is focused on infrastructure spending, more good news for the sector. The construction index in October's PMI data rose to 60.4, returning to "high-level expansion territory," according to the National Bureau of Statistics.