This post was originally published on this site
https://i-invdn-com.akamaized.net/news/LYNXMPEE2H0B5_M.jpg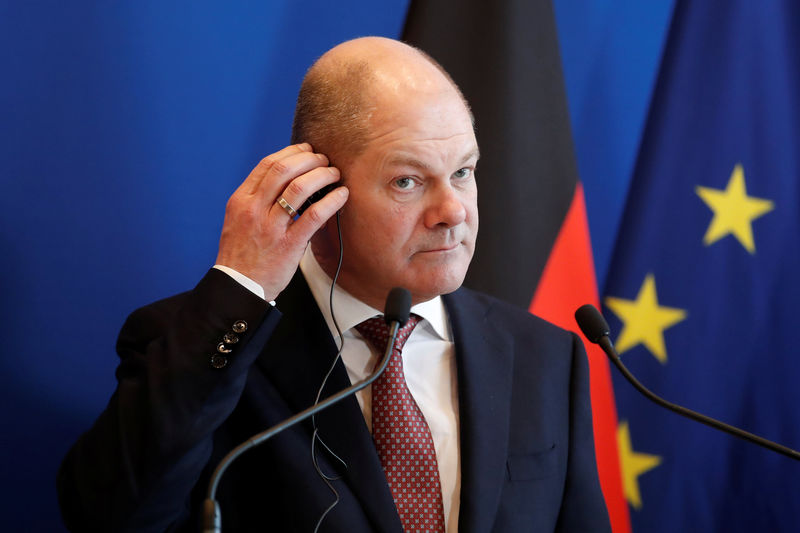 © Reuters.
By Geoffrey Smith
Investing.com — Europe's bank stocks advanced more or less in unison on Tuesday after Germany's finance minister floated new proposals to break the deadlock on a common deposit insurance scheme for the euro zone, one of the region's biggest institutional weaknesses.
By 5:10 AM ET (1010 GMT), Societe Generale (PA:), BNP Paribas (PA:), Unicredit (MI:), ING, Deutsche Bank (DE:) and Commerzbank (DE:) were all up between 4% and 1%, albeit helped in part by some strong earnings and a better-than-expected uptick in German factory orders. The consolidated recent gains, retracing 0.2%, while the German was down 0.1% and the U.K. was down 0.2%.
However, those tempted to jump on the bandwagon shouldn't get carried away. There have been plenty of false dawns on deposit insurance before, and Scholz attached familiar conditions to his proposals, as Katharine Utermohl, chief economist with insurance giant Allianz (DE:), pointed out.
Writing in the Financial Times, Olaf Scholz said "we understand that compromises are necessary to complete banking union" and proposed a common reinsurance scheme to backstop the various national schemes.
Scholz claimed this would "significantly enhance the resilience of national deposit insurance."
The proposals are important because the euro zone's lack of a common deposit insurance scheme has tied the fate of banks to the ability of their national governments to bail them out. That's contributed to big valuation discounts for banks in countries which have higher debt burdens, such as Italy, Portugal and Greece.
Germany has been the biggest obstacle to a European Deposit Insurance Scheme (EDIS), fearing that its savers could be plundered to bail out collapsed banks in southern Europe. Despite a big reduction in bad loans in the Italian, Greek and Spanish banking system in recent years, the euro zone's biggest and financially strongest economy has refused to accept a potentially vast liability.
But his suggestions were quick to attract familiar criticisms. The FT quoted Helmut Schleweis, head of the hugely influential German savings bank association, as rejecting the proposals, saying it's "not the right moment to communitize deposit insurance schemes."
As far as German banks have been concerned, it hasn't actually been "the right moment" for the last eight years, and it's hard to see when the "right moment" might ever come.
Tellingly, in tying his proposals to an unspecified additional reduction in non-performing loans, Scholz again evaded the question of how much risk reduction would be enough to satisfy Berlin and its banks. Scholz also repeated an oft-stated German demand to introduce risk-weights for sovereign bonds, something that has always been unpalatable to all of the euro zone members with lower sovereign credit ratings than Germany.
To underline the point, ECB banking supervisory head Andrea Enria gave a speech Tuesday about completing banking union which made no mention of sovereign risk weights, and a lot of space to the need for a proper EDIS, now. An agreement still seems years off.
That's not to say there's no reason for bank stocks to be up today. SocGen's results, which included an impressive 48 basis points of capital generation, removing most lingering doubts about a capital increase, were rightly rewarded with a 4.2% bounce in a stock that had fallen 20% in the 12 months prior to this morning. Moreover, its ability to keep loan loss provisions down emboldened hopes that a trade truce between China and the U.S. will come soon enough to spare Europe a wave of manufacturing bankruptcies.
So while the tentative signs of a bottoming out of the euro zone economy (and thus ECB interest rates) justify something of a rerating in bombed-out bank stocks, anyone tempted to trade just on the prospect of a European deposit insurance scheme should still probably go and lie down in a darkened room until the feeling goes away.