This post was originally published on this site
https://i-invdn-com.akamaized.net/news/LYNXNPEF170FC_M.jpg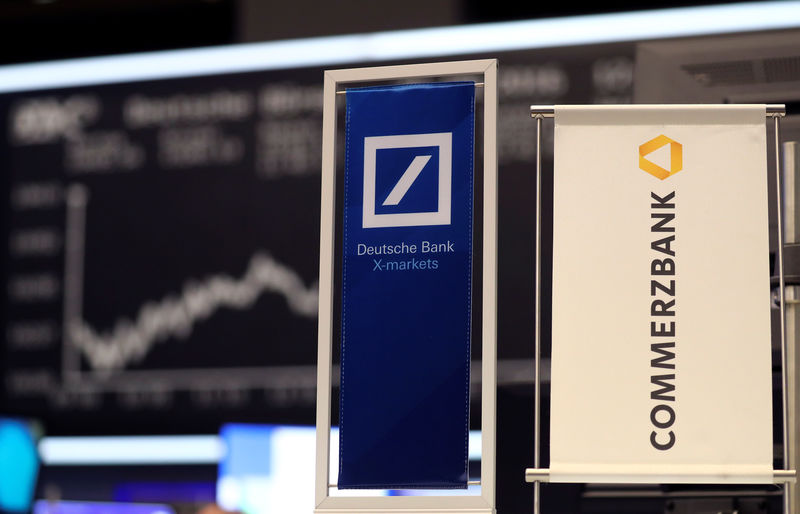 Investing.com — Just because Germany's new generation of finance firms isn't all it claimed to be doesn't make the old generation any better.
Commerzbank (DE:CBKG), the country's second-largest private-sector bank by assets, is preparing to cut another 7,000 jobs and close some 400 branches, stepping up its (so far unsuccessful) efforts to restore profitability, according to Bloomberg. The bank has not confirmed the report.
The news agency reported that the new plans drawn up by under-fire chief executive Martin Zielke may be discussed at a supervisory board meeting in the middle of the week. The new comes after private equity firm Cerberus, Commerzbank's biggest private shareholder, for "swift and decisive action" to stop a downward spiral.
"Management's ill-conceived and poorly executed attempts to prevent Commerzbank's demise display a level of negligence and arrogance we are no longer willing to tolerate," Cerberus wrote in a supposedly 'confidential' letter that mysteriously found its way into the Financial Times.
To a large degree, this can be seen simply as a howl of pain from an investor that is just 'long and wrong'. Cerberus bet on Commerzbank back in 2017, when the outlook for the eurozone economy was much brighter and it was easier to believe that the massive discounts offered by banking shares could be closed by growth and sector rationalization.
Since then, the growth story has unraveled and the prospects for rationalization – at least on any terms that would benefit Commerzbank's private shareholders – have exploded. With no prospect for a turn in the interest rate cycle, with management's hands tied by the high degree of labor protection the workforce enjoys, and with every chance of another painful wave of souring loans (starting with a 9-digit exposure to Wirecard), it is hard to see what Zielke can propose that would steer the bank away from the rocks.
His shareholders have already tried, and failed. The government – Commerzbank's largest shareholder since its bailout in 2008 – leaned on Deutsche Bank (DE:DBKGn) last year to merge with it. However, Deutsche's management successfully resisted what would have been a huge distraction while it puts its own house in order, and Chistian Sewing's team has been rewarded by a 19% rise in the share price this year, the best performance of any European bank.
Sewing's discipline may yet yield even greater rewards. When, as seems inevitable, Commerzbank's supervisors at the ECB run out of patience with its inability to turn a profit, Deutsche will almost certainly have another chance to snap up its best parts on more advantageous terms. In 2017, when Air Berlin collapsed, the government was quick to finance a solution whose top priority was to strengthen Lufthansa in the domestic market. Similar principles are likely to apply both in this case – and in many others in the post-Covid wave of corporate restructuring (and not just in Germany)
Commerzbank shares rose more than Deutsche Bank shares on Monday, gaining 2.9% to Deutsche's 1.8% (the benchmark DAX rose 0.5%, while the Stoxx 600 eked out a 0.1% gain). However, the ultimate benefit of any pruning at Commerzbank in the near term will more likely accrue to Deutsche's shareholders in the long run.