This post was originally published on this site
https://i-invdn-com.akamaized.net/news/LYNXMPEE4905L_M.jpg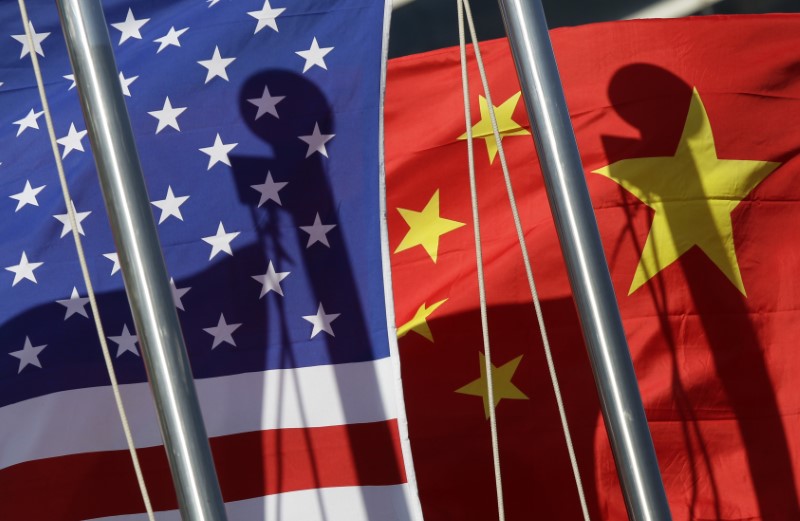 For months now, ties between the world's two biggest economies have been marred by allegations of espionage and intellectual-property theft, a blame game over the coronavirus pandemic, criticism of China's tightening grip over Hong Kong and its treatment of Muslims in Xinjiang along with sanctions and restrictions on the flow of goods, technology and people.
Chinese authorities took over the American mission in the southwestern Chinese city Monday, less than three days after the U.S. government forced their Chinese counterparts out of their consulate in Houston. The evictions follow a provocative speech from Secretary of State Michael Pompeo in which he said "securing our freedoms from the Chinese Communist Party is the mission of our time."
The tensions have helped snap a bullish run for markets on both sides of the Pacific, with the dollar dropping, gold rising and stocks falling Friday — and starting the new week mixed.
Arthur Kroeber, a veteran watcher of China's economy and a founding partner at research firm Gavekal Dragonomics, summed up Pompeo's speech like this: "If this barrage of rhetoric does not qualify as a declaration of intent to wage cold war, it is hard to know what would."
Global businesses — which have been navigating the U.S.-China trade war for two years now — are being swept up in the latest escalation. U.S. Attorney General William Barr said this month that companies including Walt Disney (NYSE:DIS) Co. and Apple Inc (NASDAQ:AAPL). have become pawns of China, while President Donald Trump said he was considering banning ByteDance Ltd.'s short video app TikTok as retaliation over China's handling of the coronavirus.
Chinese President Xi Jinping's government has retaliated with measures that include unspecified sanctions on defense contractor Lockheed Martin Corp (NYSE:LMT). after the U.S. approved a possible $620 million deal to supply missile parts to Taiwan. And it has threatened to blacklist companies over other issues too.
British based HSBC Holdings Plc (LON:HSBA) was forced to respond to media reports over its dealings with Huawei Technologies Co. by denying it "framed" the Chinese telecom giant that is subject to a U.S. probe. That came just weeks after the London based lender had to pledge approval of tough new security laws imposed by Beijing on Hong Kong.
Creeping decoupling that began with trade barriers is moving into the technological, financial and diplomatic spheres, according to Joerg Wuttke, president of the European Union Chamber of Commerce in China. "The implications for European companies are considerable, and overwhelmingly negative," he said.
Indeed, the U.S.-China rivalry is increasingly going global. Japan's government plans to subsidize some companies to invest in factories at home and in Southeast Asia as part of efforts to reduce reliance on manufacturing in China. Tensions have also flared between China and key trading partners including Australia, India and the U.K.
While political pressure on foreign companies in China has long been a downside to winning access to one of the world's biggest markets, the recent spiral is risks making real former U.S. Treasury Secretary Hank Paulson's warning that China and the U.S. could raise an "economic Iron Curtain."
Only a "phase one" trade deal signed in January remains as a linchpin to the relationship. But talks on phase two look increasingly remote and even Trump says the first deal means less to him now.
"The rules of the game for business have changed profoundly in the past year," said Edward Alden, a senior fellow at the Council on Foreign Relations. "We have moved in a very short time from a period in which U.S. and other companies were encouraged to invest and expand in China to a situation where the U.S. government, and to some extent the Japanese and European governments, are actively discouraging such engagement."
Skeptics say it won't be easy to square the hawkish rhetoric with the deep economic linkages between the U.S. and China, a stark difference to the circumstances of the Cold War with the Soviet Union. Few are predicting an immediate exodus of either companies or investment from China.
"Decoupling is not physically possible if the pursuit of profit is the main motive," Charles Liu, a former Chinese diplomat and founder of Hao Capital told Bloomberg Television.
Other contradictions include the continued expansion of U.S. financial firms into China, the ongoing listing of Chinese firms in New York and the flood of foreign money, including American, into China's stock and bond markets. Neither is it clear there's a global alliance following the U.S. hawkish lead as both the EU and others negotiate with China on better access.
Still, the forced closures of the diplomatic consulates made clear there's no floor under where those strains are headed, right at a time when the world economy is fighting its worst slump since the Great Depression due to the pandemic. Beijing has accused the Trump administration of stirring up hysteria and has warned it to think "carefully."
If the zero-sum game takes hold in Washington "businesses will have to make some very hard choices about how much exposure to China they can afford to have," according to Kroeber.
What Bloomberg's Economists Say
Even as the trade war raged, businesses could console themselves with the knowledge that the ultimate aim of the Trump administration was fairer conditions for commerce between the two countries. The darker vision painted in recent speeches by Pompeo, Barr, and O'Brien is one of existential conflict between two fundamentally opposed systems. If that is the new policy in D.C., consolation for businesses attempting to work across the divide will be harder to find.
–Tom Orlik
The specter of a bipolar economic system is evident in rival systems of technology and the internet. Some big Chinese tech firms are choosing to go public closer to home with billionaire Jack Ma's Ant Group seeking a valuation north of $200 billion for a listing in Hong Kong and Shanghai, rather than New York.
Avoiding the political tensions won't be easy, whether it's a garment company that has sourced cotton from Xinjiang or a bank that falls foul of sanctions covering Hong Kong, according to Alicia Garcia Herrero, chief Asia Pacific economist with Natixis SA.
In the meantime, China is powering ahead with its own industrial strategy and continues to promise foreign competitors better access. In a recent symposium attended by executives from Microsoft Corp (NASDAQ:MSFT)., Panasonic (OTC:PCRFY) Corp. and others, Xi said China would stand on the "correct side of history."
"Chinese leaders have been emphasizing strengthening a self sustaining economy lately and are digging trenches as the U.S. is digging in its heels," said Hao Hong, chief strategist at Bocom International.
©2020 Bloomberg L.P.