This post was originally published on this site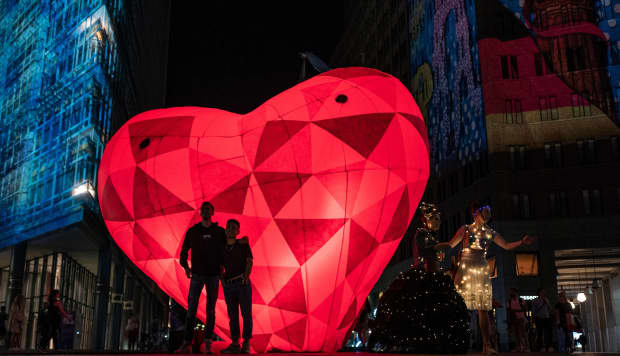 Have small caps finally found some love?
Agence France-Presse/Getty Image
Small hasn't been beautiful for stock-market investors for quite some time, but that leaves shares of smaller companies plenty of room to run if investors follow through on a rotation away from large-cap tech shares fueled by progress toward a COVID-19 vaccine, analysts said.
"If tech has been a rocket, small-caps have been a submarine. With the exception of the post-corporate tax reform run, and a few other blips, flows have been consistently negative for this group for [around] nine years," wrote analysts at Jefferies, in a Saturday note that included the chart below tracking equity flows over the last two years.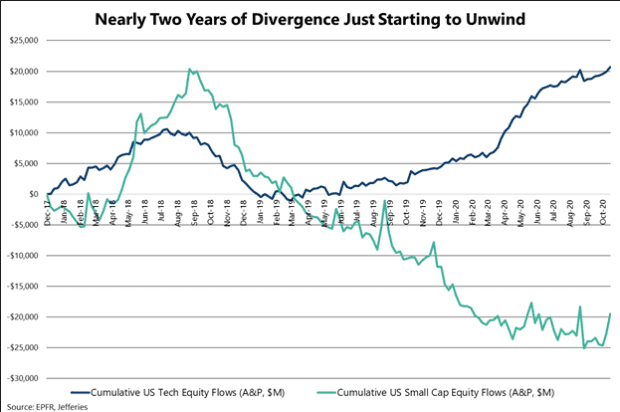 "But maybe a bottom is forming," they said.
The small-cap Russell 2000 RUT, +2.33% jumped 6.1% last week to end Friday at 1,744.04 for its first record close since August 2018. The tech-heavy Nasdaq Composite COMP, +0.74% fell 0.6% last week, part of a rotation away from 2020 high fliers after Pfizer Inc. PFE, -3.91% and BioNTech SE BNTX, -17.54% on Nov. 9 said their COVID-19 vaccine candidate was more than 90% effective in preventing infections during a trial.
The same pattern was on display Monday, after Moderna Inc. MRNA, +8.02% said its vaccine candidate was more than 94% effective. The Russell 2000 was up more than 2% in late morning trade, versus a 0.8% rise for the Nasdaq, as stocks rallied.
The Jefferies analysts said they've long argued that small-caps were poised to "disproportionately benefit" from a full-fledged economic recovery — not only based on fundamentals but also on positioning, given investors' underexposure to the segment and heavy exposure to tech.
"Small-caps remain pretty seriously underloved, and while it would take an enormous amount of capital just to get back to early '19 levels, tech has plenty to give," they wrote.
Cyclical stocks, which are more tied to the economic cycle, also benefited from the idea that vaccine progress offers a light at the end of the pandemic tunnel for the economy, even as COVID-19 cases and deaths continue to rise. The more cyclical Dow Jones Industrial Average DJIA, +1.47% also outperformed last week, rising 4.5%. The S&P 500 SPX, +1.08% rose 2.2% last week, still notching its first record close since Sept. 2 on Friday despite a drag from tech stocks.
Read: Dow on verge of 30,000 and first record close in 10 months
The Dow was up around 450 points, or 1.5%, on Monday, while the S&P 500 rose 1.1%.